PRESS
Check out the thought leadership press and events that our people have been at!
Do you want to learn more about generating growth, value proposition, or differentiating yourself in the marketplace? Well, Peter discusses these topics and more!
SEE OUR HIGHLIGHTS!
Listen to Podcasts. Read the Interviews. Learn More!
Feedspot's Top 10 Thought Leadership Blogs
Thought Leadership Leverage has been selected by Feedspot's panelists as one of the Top 10 Thought Leadership Blogs on the web. Visit their site and check out the most comprehensive list of top thought leadership blogs!
Awards Magazine – Top 100 Global Thought Leaders and Influencers to Follow
Here is  Awards Magazine's list of top 100 Global Thought Leaders and Influencers to follow who have made a large impact in severa industries and society.
Stevie Awards Partners to Create Thought Leadership Categories
Thought Leadership Leverage will partner with the Stevie Awards team to create and promote categories related to thought leadership in all eight Stevie Awards competitions.
The 100 B2B thought leaders and influencers you should follow in 2021
Peter Winick is among the 100 professionals that Thinkers360 suggests you follow in 2021 for B2B Thought Leadership! The list is compiled from opt-in members of Thinkers360 who have contributed and shared their thought leadership content on our platform and among our community – whose members have over 25M followers on social media combined.
The 100 global thought leaders that will inspire you in 2021
Peter Winick is among the 100 professionals that PeopleHum has recommended for their unique perspectives and uncovering the dynamism of the modern workplace through various and unique lenses.
50 Podcasts from Thinkers360 Thought Leaders You Should Listen To in 2021
Here's Thinkers360 list of the top 50 Thought Leader podcasts that you should be listening to. Thought Leadership Leverage is among this list! And if you'd like to check out other great Thought Leader podcasts, click on the link above.
Top 100 Global Thought Leaders and Influencers
Here is the list of top 100 Global Thought Leaders and Influencers to follow on Social Media who have made great impact in many industries and society. Follow and work with these top 100 global thought leaders to make your business/ life better.
Check out Thinkers360!  Peter Winick is now 2nd on the Thought Leader & Influencer Leaderboard (Live)! You can learn more about it at their website. (Login Required)
LAS VEGAS, September 22, 2020 (Newswire.com) – LXbD has partnered with Thought Leadership Leverage (TLL), a world-renowned consulting firm with over 15 years of experience that will enable a consistent and effective onboarding of high-quality, well-vetted thought leaders. TLL's access and network to the thought leadership community is unrivaled. This partnership will bring a wealth of topics and knowledge, as LXbD delivers unparalleled learning experiences from some of the world's most influential thought leaders.
Check out  Thinkers360 on Twitter!  Peter Winick is now 7th on the Public Relations Thought Leader & Influencer Leaderboard (Live) from Thinkers360! You can learn more about it at their website. (Login Required)
Be Obsessively Focused on your Market's Need to Create a Bingeable Podcast with Peter Winick of Leveraging Thought Leadership Podcast
Define your audience, define the cadence, develop your format, be consistent and see what resonates most with folks. The market will tell you what's working if you're wise enough to objectively listen to it. Read this article about the 5 things that will help you create a successful podcast.
---
How Can You Spot Really Good Leaders?

In this article by Marcel Schwantes for Inc.,  Bill Sherman adds insights as to how small nudges can change behavior.
Is Self-Publishing in Your Marketing Plan?
In this Fox Business article by Kim Ann Zimmerman, Peter Winick speaks about knowing your goals and what you should do to get there.
Stand Out and Be Noticed, at INC.com
In this interview with Alison Davis for Inc., Peter discusses abandoning "play-it-safe" content, and offers 5 tips for getting your content strong attention — without going overboard.
Forbes – The Pre-Startup Checklist
Forbes investigates why some startups succeed while others fail. Peter discusses the importance of thought leadership for CEOs and entrepreneurs looking to differentiate themselves in the marketplace.
Wealth Management explores advisors who write books and benefit from the power of authority marketing.
Wealth Management – Want to be know as an Expert? Write a Book
In this comprehensive blog series, Peter details the journey from book launch, to speaking engagements, to content delivery, as authors and thought leaders compete for the valuable attention of limited enterprise clients.
Peter examines the challenges of taking a book from written word to complete product suite, and discusses training offerings, speaking engagements, and consulting.
In this 5-question Q&A session for AnswerStage, Peter addresses questions about audience targeting, social media strategy, product creation and more. These quick tips can accelerate your business to new heights!
CPSA – Create for Insights not Likes
(Note: This content is for members of the site.)
In this discussion, Peter examines how one should look at content, and discusses how to develop a social media strategy.
Peter shares six quick tips to attain thought leadership status in your industry. These are vital building blocks for growing your thought leadership business!
Peter shares key concepts in social media: learn to stand out in a space full of noise and competition by being proactive with your marketing strategy.
Five Questions that Craft a Manifesto, at LeadingWithQuestions.com
Peter recently wrote that he's a big believer in the power of manifestos. It forces the author to crystalize their thinking about their content, and more importantly, gets them to have a more complete understanding of its potential impact on their respective followers, community and, in many cases, the world at large. Learn how to craft your own leadership manifesto!
What it Really Means to Lead People with Your Ideas, at Doug Toft.net
In this brief interview, Peter discusses how to make a living by leading people with your ideas. He discusses content to enlighten, guide, and inspire, as well as using academic research, sustaining behavior change, and how (and why!) a thought leader needs to write a manifesto to articulate the heart and soul of your content.
An Enlightening Chat with Peter Winick, at Marketing by Deepak
In this in-depth interview, Peter talks about the enjoyment he gets from working with thought leaders and teaching them to leverage their content. He discusses leadership at major companies, and gives his opinion on workplace bullying, and tells us how to train leadership to use more effective management techniques.
What Do All Thought Leaders Have In Common?, at Mastermind Century Group
Peter discusses the role of personality, style, and strategy, as he talks about his experiences working with some of the greatest thought leaders of our time. If you're about to invest your time, energy and effort into becoming an author and thought leader, spend some time being introspective — to be sure you've got the right levels of all of these characteristics!
In this episode, Peter shares some valuable insights that can help leaders at all levels expand their abilities! For the past two decades, he has helped individuals and organizations build and grow revenue streams through designing and growing their thought leadership platforms as well as acting as a guide and advisor for increasing business to business sales of thought leadership products.
Finding Your Niche & Becoming a Thought Leader
In this episode, The Virtual CPA Success Show for Creative Agencies sits down with Adam Hale and Bill Sherman, COO and Thought Leadership Practice Lead of Thought Leadership Leverage to talk about how thought leadership gives an organization a competitive advantage and the important steps you need to take to become one.
Difficult Conversations – A Year in Review
Peter Winick interviews Dr. Anthony Orsini and Elizabeth Poret-Christ.  Liz is The Orsini Way Managing Director. She makes The Orsini Way run and is a master communicator and expert in patient experience. Dr. Orsini talks about his background, the profound experience he had as a neonatal fellow that brought him to teach doctors how to communicate, and his mission. Liz shares some stories about how she got into her current position at The Orsini Way.
Success Made to Last with Peter Winick of Thought Leadership Leverage
Listen to Peter talk about success in thought leadership on the Success Made to Last podcast.
All Things Book Marketing Podcast – Authors Becoming Thought Leaders
Mike Onorato, host of the All Things Book Marketing Podcast speaks with Peter Winick about authors becoming thought leaders. Peter has helped individuals and organizations build and grow revenue streams through designing and growing their thought leadership platforms. He acts as advisor and guide for growing the business as well as sales of thought leadership products.
Episode 46: The Culture of Thought Leadership
What is thought leadership? What is it that thought leaders are doing, and who decides who is and isn't a thought leader, anyway? According to today's guest, a lot of people are doing it wrong by calling themselves thought leaders – instead, it should be a title that others bestow on you. It's up to your audience to decide whether or not you're actually leading.
Episode 35: What does it mean to be a thought leader?
Join Becky Robinson on the Book Marketing Action Podcast as she speaks with Peter Winick. Peter shares the difference between a traditional thought leader and an online thought leader, and the steps someone can take to become one.
Join Gary Wilbers as he speaks with Peter Winick about Thought Leadership. If you want it bad enough, you can do it. Your business should invest in thought leadership because it creates indirect monetization and is a way for your brand to stand out.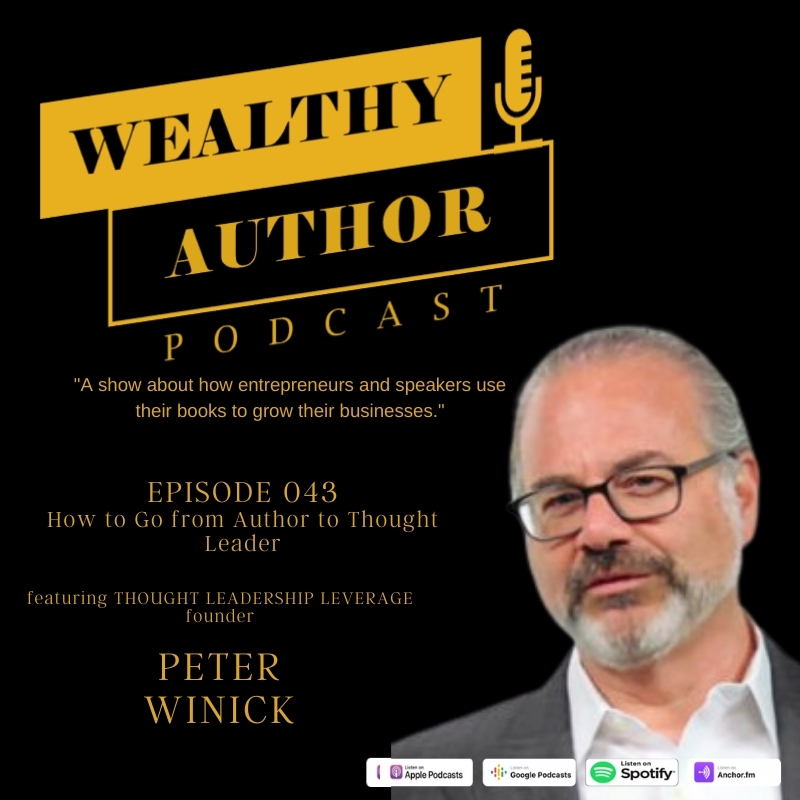 Wealthy Author Podcast ep 043: How to Go from Author to Thought Leader with Peter Winick
D. Arlando Fortune speaks with Peter Winick about how authors can make the move to thought leader. They discuss the importance of combining author and platform services under one roof and how to get to your ideal customers when you don't have the budget to mass market. Listen in and discover more!
Peter Winick on Live Events – Where's the Money Flowing & How Thought Leaders are Capitalizing
Matt Johnson speaks to Peter Winick on how 2020 has impacted live events and how the players in this world have responded. What opportunities can we leverage in this new world? How can thought leaders maintain their effectiveness when the world of events has shifted?
1629: The Market Will Tell You the Truth Whereas Individuals Don't Have the Power to do that with Peter Winick Founder and Owner of Thought Leadership Leverage
On the Entrepreneur Way podcast, Neil Ball interviews Peter Winick. "If it's your first time in the game, you will totally underestimate what it will take. And by what it will take I mean time, energy, effort, resources and dollars. I think business plans the way they traditionally have been done where you've got cash flow projections and all of that stuff for most businesses are a total waste of time and energy. I think you need to realize it will take you longer, it will cost more money, it's going to take more energy. And listen to the market and get over yourself. The market will tell you the truth. Individuals don't have the power to do that as cleanly as the market does."
Peter Winick—Can A Thought Leader Help You Think Better?
Learn how to think better, think smarter! Listen in as Peter educate us on the power and potential of thought leaders to help us, each of us, "think better."
Jess and Peter talk about what a thought leader is and is not. Also, Peter speaks about the danger of sitting back and waiting during the current crisis, and offers insight about what we can do right now, in uncertain times. You'll also hear how Peter utilizes podcasting to build his brand, and his experience as a podcast host and guest.
---
 Peter Winick on building an effective thought leadership platform
What does being a thought leader even mean? It seems as though there is a gray line when it comes to considering yourself a thought leader or attempting to become one. Peter Winick came on to The Lucky Titan to share with us how to leverage the power of thought leadership!
---
 Peter Winick on building an effective thought leadership platform
On the Unleashed Podcast, Peter shares the mistakes people often make when the begin the process of creating a thought leadership platform. Then, Peter talks about his step by step process from strategy, to product design and monetization.
---
Upside, the Business Growth Podcast, sponsored by Forbes Books
Great content and creating a platform to best support it takes a combination of art, science, logic, focus, passion and creativity. During this Podcast, Peter speaks with Rusty Shelton about what we do at Thought Leadership Leverage among other topics.
---
In this BLS Minute, Derek Champagne interviews Peter Winick, founder and CEO of Thought Leadership Leverage, and asks him to define effective thought leadership.
Absolute Advantage Podcast with Peter Winick
Peter joins Kelly Hatfield, of the Absolute Advantage podcast, to discuss the journey authors and content creators take to become thought leaders, focusing on specialized content and a targeted audience.
In conversation with Tonya Hall from the podcast Published, Peter discusses the role that writing a book plays in thought leadership. Together, they explore trends in authorship, and what strategies are needed to capitalize on your content and limited time.
Hispanic Marketing & Public Relations website and podcast
A podcast interview with Peter Winick, content strategist, available in the Podcast Section of Hispanic Marketing & Public Relations, HispanicMPR.com. Elena del Valle speaks with Peter Winick about monetizing your platform strategically.  To listen to the podcast, please enable Flash on the web page. (Podcast player is on the right.)
Accelerate! Sales. Profit. Growth.
Andy Paul interviews Peter about sales and marketing strategies for content businesses and how to increase brand awareness in a world of smarter consumers.
Listen to an invigorating conversation featuring Peter Winick, Mitchell Levy, and Peter Hoppenfeld discussing the real value of your content, and how to ensure the best ROI by keeping control and licensing your products.
Business Leadership Series or Here or (Episode 72) Itunes
In conversation with Derek Champagne for the Business Leadership Series, Peter discusses the process of evolving beyond speaking events and into targeted strategy. Peter explores the tactical decisions on social media use, product development, and business analysis in the content space.
Leveraging Thought Leadership In Education for Upward Mobility
Peter joins Ed Brown from the American Academy of Advanced Thinking to explain thought leadership for education professionals who are looking to advance their careers.
Creative Warriors – Warrior of Discipline
Creative Warriors' Jeffrey Shaw discusses with Peter the balancing act between flashy branding and deep, rich content. They go in-depth on personal branding, realistic goal setting, and generating growth for thought leaders.
Authority Summit Interview, 2018  
Peter Winick talks about how to leverage your position as a thought leader in order to reach and even expand your target markets; how to get your message out in a digital age.
Peter shares the things you need to know and be doing as a thought leader, to be successful in today's world. These podcasts will push you to start thinking about what you have as a business with a disciplined lens. Peter discusses the changing landscape in the keynote world, with interviews revolving around the what experts see changing or evolving in thought leadership's future.
In this interview, Peter Winick elaborates on turning foundational ideas into thriving businesses. He also shares his own definition of Thought Leadership, and shares how to maximize content to grow one's business. Aside from leveraging content, Peter Winick also talks about the importance of branding and its benefits, and how to make the most of your intellectual property.
Peter Winick on "Let's Talk Strategies" with Danette Moss
This week's guest is Peter Winick, owner of Thought Leadership Leverage.  Peter has over twenty years of experience and has worked with a variety of thought leaders. In addition, he has built and managed several consulting and professional development organizations.
Making Your Knowledge & Services Scalable, at Entrepreneurs Radio Show
In this episode Peter Winick talks about helping content makers move from a business model that prevents them from scaling (due to the time commitment) and transitioning those skills into a product that can be scaled. Learn more about monetization, publishing, and how not to leave money on the table.
Close the Gap Between Reality and Ideas, at iHeart Radio
Do you ever wonder why your numbers aren't as high as you want them to be? Or maybe you're not getting response from a market you wanted. We live in a world of data, and Peter Winick is here to help you gather the data you need, and use analytics to prove your work — statistically!
Learn the Dangers of being Multi-Passionate, at MovedByPurpose.net
Trying to start a business or in the early stages of starting a business? Listen in to Peter Winick, as he tells us what MUST be done before investing tons of time, energy, money into developing your epic idea. Learn Peter's take on building a business, and how to follow your passion – without getting overwhelmed by it.
Using thought leadership to grow your business, Peter Winick | STRATEGY SPRINTS®
Listen in as Simon Severino speaks with Peter Winick about using thought leadership to grow your business. Peter speaks about his work with thought leaders, the podcast and ways for you to get further with your own thought leadership.
CB Bowman LIVE! Challenges of the C-Suite Guest: Peter Winick, Episode #28
Watch CB Bowman speak with Peter Winick about the Challenges of the C-Suite Guest on CB Bowman LIVE!
The Agency Profit Podcast – Episode 56 with Peter Winick
See Peter Winick talk about how to build & leverage thought leadership on the Agency Profit Podcast! Check out the full episode here!
Video Version – FranklinCovey On Leadership with Scott Miller – Episode 140 – Peter Winick
Join the founder and CEO of Thought Leadership Leverage, Peter Winick, as he shares expert insights around the value, evolution, and makeup of impactful thought leadership.
Power Lunch Live with Rhett Power and Peter Winick
Do you have something important to say? Want to build your Thought Leadership? Rhett speaks with today's thought leaders, best-selling authors, and business executives who share their secrets to success. Today, Rhett Power from the Power Lunch Podcast speaks Peter Winick, CEO of Thought Leadership Leverage.
How does The Thought Leader's Thought Leader Think ???
Simon Haigh from Growth Strategist Podcast speaks Peter Winick, CEO of Thought Leadership Leverage about his start the various patterns in thought leadership.
Episode 13: Interview with Peter Winick
John Baldoni and Rhett Power from What's Next speak Peter Winick, CEO of Thought Leadership Leverage about how leaders can help shape our new normal.
Lisa Nirell, keynoter and author speaks with Peter Winick, CEO of Thought Leadership Leverage about the four keys to mindful thought leadership and various aspects of thought leadership on her Mindful Marketing Live Stream.
Thought Leadership Podcasting With Net New Client Metrics With Peter Winick
Successful podcasting is not so much about having millions of viewers as it is about having a guesting strategy by which your rapport with your guests helps build your show and your business. Tracy Hazzard recently wrote an article about Peter Winick's podcasting strategies that drive his show into continuing success. He joins her again on the show to talk more about guesting strategy, building rapport, and getting new clients. Don't miss out on this episode!
reBoot – Lessons Learned During Covid-19
On the Reboot podcast, Dave Summer and Peter Winick  discuss the changing modes for thought leaders and expert advisors and the power of community during Covid-19.
What Thought Leaders Need to Know About the Changing Book Publishing Landscape
Listen in as Peter Winick is joined by Naren Aryal of Amplify Publishing to host a Zoom Webinar. They discuss various aspects of the changing book publishing environment and speak with several other thought leaders that join the call to provide their own insight.
The Role of Content Digitization in Business Growth – Peter Winick
In this episode,  Vanessa Rose of PeopleHum speaks with Peter Winick about content strategy and thought leadership.
How to Use Thought Leadership to Grow Your Business – In Just 7 Minutes with Peter Winick
In this episode, Peter shares how he helps thought leaders build their ideas into businesses and create revenue streams from their content. For the past two decades, he has helped individuals and organizations build and grow revenue streams through designing and growing their thought leadership platforms as well as acting as a guide and advisor for increasing business to business sales of thought leadership products.
What are you uniquely qualified to solve?
On the Dropping Bombs podcast, Brad Lea and Peter Winick discuss a variety of topics related to Thought Leadership such as strategies to grow your thought leadership, book publishing and more! Tune in and Listen! Watch the Video here!
Dov Baron: Leadership and Loyalty Show for Fortune 500 Executives, Family Businesses, Leadership Speaker-Consultant, Business Management, Human Resources, Millennial Generation Leaders – Peter Winick: Leverage, replicate and Scale
Peter joins Dov Baron from FullMontyLeadership.com for a video interview with tips on how to leverage and scale your content into new products. Peter explores creating a value proposition for your skills and process to prepare for enterprise-level deployment.
ThoughtLeaderLife
Listen in as Peter and Mitchell Levy from ThoughtLeaderLife set up a series of videos for speakers and authors who are looking to reach a wider audience and generate more revenue. Explore the video series for more great tips!
Peter, in conversation with Vinnie Fisher from TotalCEO, addresses the challenge that consultants face in moving from great content to creating real value and revenue based on that content.
Insights Into Business Models for Thought Leaders
Learn Peter's tips for creating a focused strategy for launching your content, and how to target your content successfully.
Video Podcast with MeBoxMedia.com
Peter Winick shares his background, experiences, and strategy in a fascinating podcast interview by MeBox.com. In it, Peter discusses Business Development Strategy, and reveals the Three Traits Thought Leaders share.
In this short podcast, Peter discusses the differences between having a "practice" and having a "business." How to leverage your content outside personal space, and monetize it into digital formats.